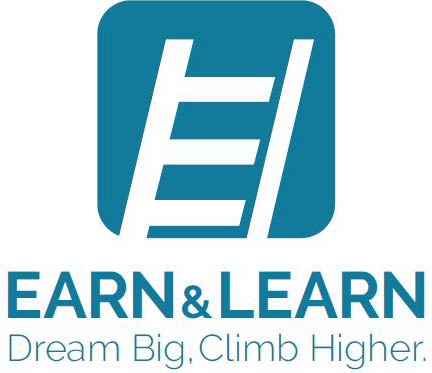 Who We Are
Who We Are
Earn & Learn is an Education Technology organization that works to effectively scale workbased learning experiences for all learners. We are a funneled point of contact for employers to work with a region's schools, colleges, and community organizations to develop a local diverse talent pipeline and provide equitable access to high-wage, high-growth careers.
Why We Do It
Many learners crave relationships, real world learning, and access to meaningful career paths beyond their home community. Employers desire a diverse talent pipeline that is ready for the workforce. Our education system and our employers will only align when we change the architecture of K-16 schools to embrace work-based learning and make it easy for them to collaborate.
The Problem We Solve
Employers can't find enough local talent and need to recruit from outside their regions to fill positions. They would like to work with schools and community partner to develop their future workforce, but there is not a system in place for them to connect with learners. Instead they receive multiple uncoordinated requests from educators and don't have data on what they are doing. Many Learners do not have access or exposure to meaningful work-based learning experiences that promote career readiness, especially in high-growth, high-wage jobs. Educators and Community Partners are siloed at their sites and need help in organizing work-based learning experiences, including how to engage with employers and provide meaningful experiences for learners.
WBL At Scale
Work-Based Learning At Scale
Earn & Learn partners with K-12 school districts, community colleges, community based organizations, trade associations, workforce boards and employers to advance more and better work-based learning (WBL) for learners. E&L has built a robust technical infrastructure Earn & Learn Employer Network Activated "ELENA" for tracking employer engagement and WBL activities using our proprietary framework, architecture, and automations. All Earn & Learn partner work-based learning is powered by ELENA.
Advantage
Earn & Learn differentiates itself from other organizations because of its proven use of a scalable technological platform, and its ability to work across public education and workforce development systems to organize partners with a regional approach to engaging employers. This ability to work within the public sector and build institutional support for this approach to career readiness is our secret sauce. The proven model for Contra Costa and Alameda Counties, is now ready to be scaled across California and nationally.
Impact
Earn & Learn has served nearly 75,000 learners across the Bay Area since it was first launched in 2015. Our ELENA platform currently has over 100 active Connectors (anyone who works to connect learners and employers for purposes of coordinating work-based learning (WBL)), 2,200 employer partner organizations, and 4,000 employee contacts all committed to providing and scaling work-based learning.
Partnerships
Earn & Learn was originally incubated by the Contra Costa Workforce Development Board and California Career Pathway Trust Funding in 2014. It now has recurring earned revenue from K-12 School Districts, County Offices of Education, Community Colleges, Workforce Development Boards, and community based organizations. We are growing and looking to deepen our employer partners in providing more and better work-based learning experiences, as well as growing our partner network to provide the resources and technology to support the work.